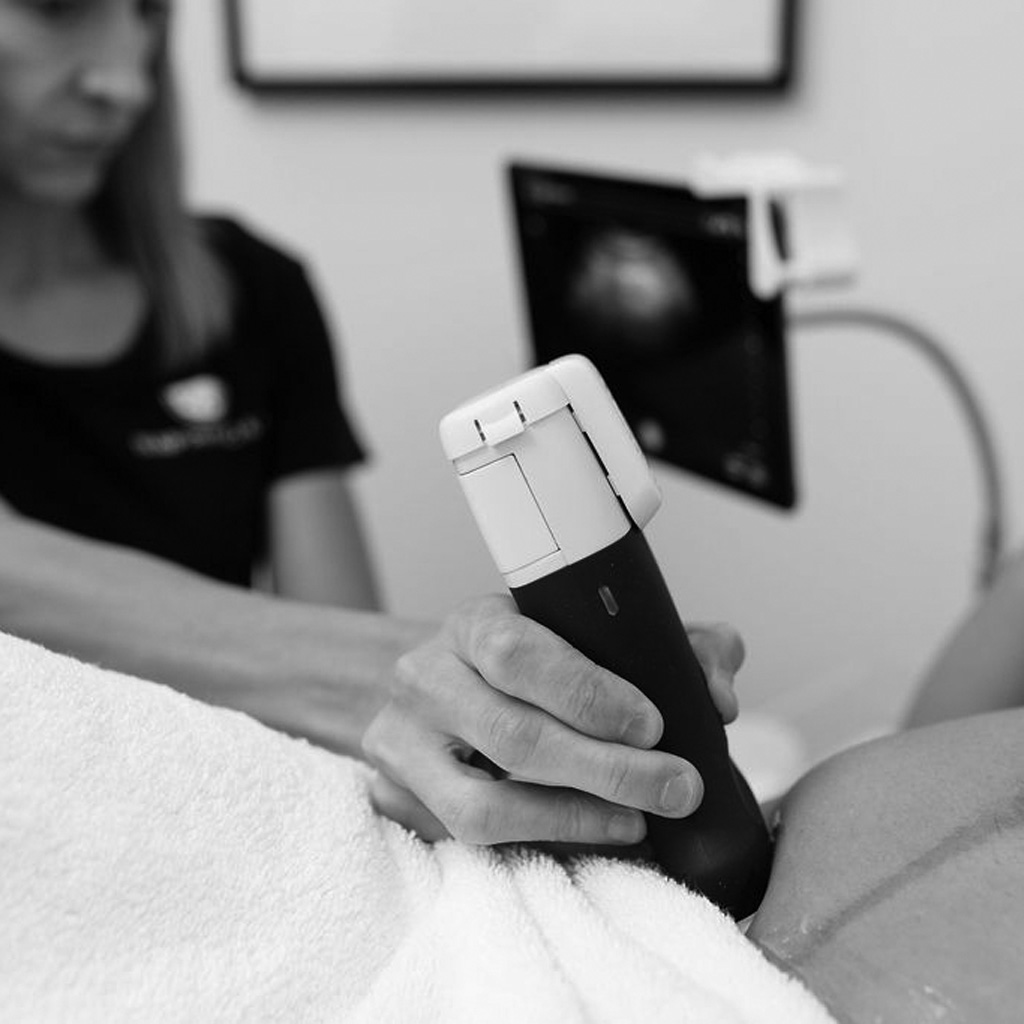 Rehabilitative Ultrasound Imaging (RUSI)
Non-invasive Pelvic Floor Imaging
Rehabilitative ultrasound imaging is a relatively new application that involves using a gentle probe and a conductive gel to transmit sound waves through the tissues to see the underlying structures in real time. We use this information to inform treatment plans to help clients improve muscle identification, activation and coordination, motor learning tasks, and functional integration into movement and through exercise. RUSI can also be used as a form of biofeedback and is used in the assessment and treatment of bladder, bowel and abdominal wall conditions.
A special note to RUSI clients:
Please ensure you have a relatively full bladder when you come to your appointment. The bladder needs to have fluid in it for us to be able to visualize the pelvic structures and take any necessary measurements. Please drink 500ml of water, 1 hour before your visit to the clinic.

RUSI can be an effective tool for clients who are either unable to have or who are not comfortable with an internal vaginal or rectal assessment. RUSI can also be helpful for assessing and treating pelvic floor conditions in kids.

Minimal risks are noted, however, it's important to consider prolonged exposure to heat for a fetus in the first trimester. Please discuss the benefits and risks with your treatment provider prior to incorporating it into your rehabilitation plan.

RUSI is a helpful tool that can provide a non-invasive evaluation of the abdominal wall through visualizing your abdominal connective tissue including the integrity of your linea alba at rest and through functional movement to see how your core is functioning as well as to measure the change in gap between your core muscles.

Research supports the use of rehabilitative ultrasound as a reliable and valid method in objectifying DRA across a range of measurement situations (ie with exercises or functional movements) (Rankin et al., 2006). RUSI has also been used to asses inter-recti distance in DRA and its relationship to abdominal wall function in pregnancy, postpartum recovery, in relation to other pelvic floor dysfunctions (UI, FI, POP) and in individuals with persistent lumbopelvic pain (Spitznagle et al., 2007).

Using RUSI, we can see your pelvic floor muscles in real-time. This allows us to provide a visual form of feedback to help you connect with what is happening during a pelvic floor muscle contraction as your pelvic floor muscles move through their range of motion. In a study of 47 women, following brief verbal instructions, less than 50% were able to perform an in deal pelvic floor muscle activation while 26% utilized a technique that would promote incontinence (Bump et al, 1991). RUSI allows you to observe if your pelvic floor muscles are contracting or relaxing efficiently which can be helpful to improve symptoms of prolapse, leaking, difficulty initiating flow of urine, pain with intercourse.

RUSI can be used as a non-invasive tool to assess bladder conditions such as incontinence, urinary retention, recurrent UTIs (Smith et. al., 2022) and pelvic organ prolapse.

RUSI can be used in the assessment and treatment of constipation and other bowel conditions.

Often times low back pain is correlated to pelvic floor dysfunction. We can use RUSI as part of our assessment and treatment for low back pain in assessing pelvic floor muscle function as well as multifidi activation (a spinal stabilizer).

We can use RUSI to visualize muscle activation through various movements and functional activities. For example, our physio and exercise rehabilitation team can see how your core manages intra-abdominal pressure through a straight leg raise, squat or even an overhead press.
Rehabilitative Ultrasound Imaging
| | |
| --- | --- |
| Pelvic Floor Physiotherapy + RUSI Initial Assessment (55 min) | $195 |
| Pelvic Floor Physiotherapy + RUSI Follow Up (45 min) | $137 |
| Pelvic Floor Physiotherapy + RUSI Follow Up (Extended) (55 min) | $195 |