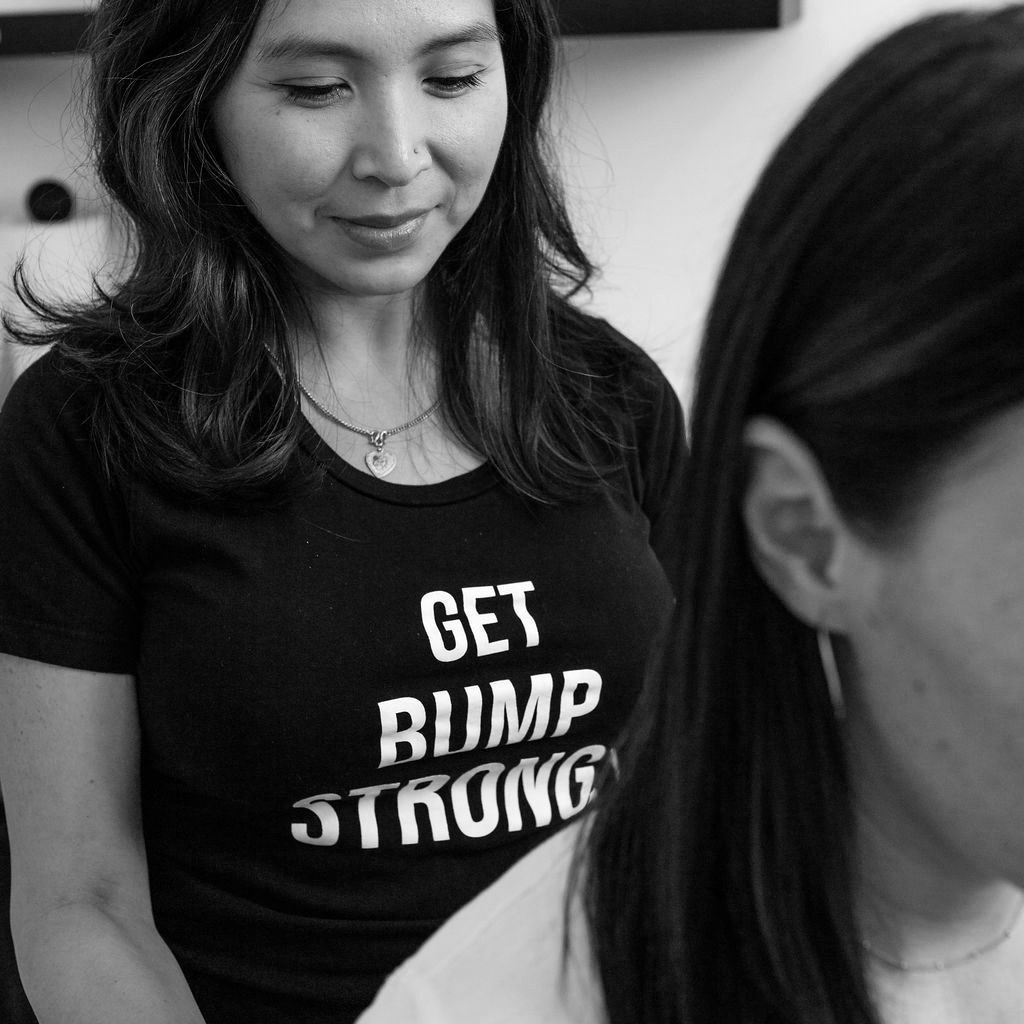 Accessible pelvic health
Bump Fund
We provide a minimum donation of $2,000 per year in free physiotherapy care through our program for services rendered at Bump to selected individuals who meet the eligibility criteria.
Supporting Community
Pelvic health for all
At Bump Physio & Co, we recognize that having access to excellent prenatal, postpartum, and pelvic floor care is a luxury, and one that some families just can't afford. We want to do better to support our community, which is why we have decided to set up a fund to provide free pelvic health services, as well as the required products for successful treatment to eligible applicants.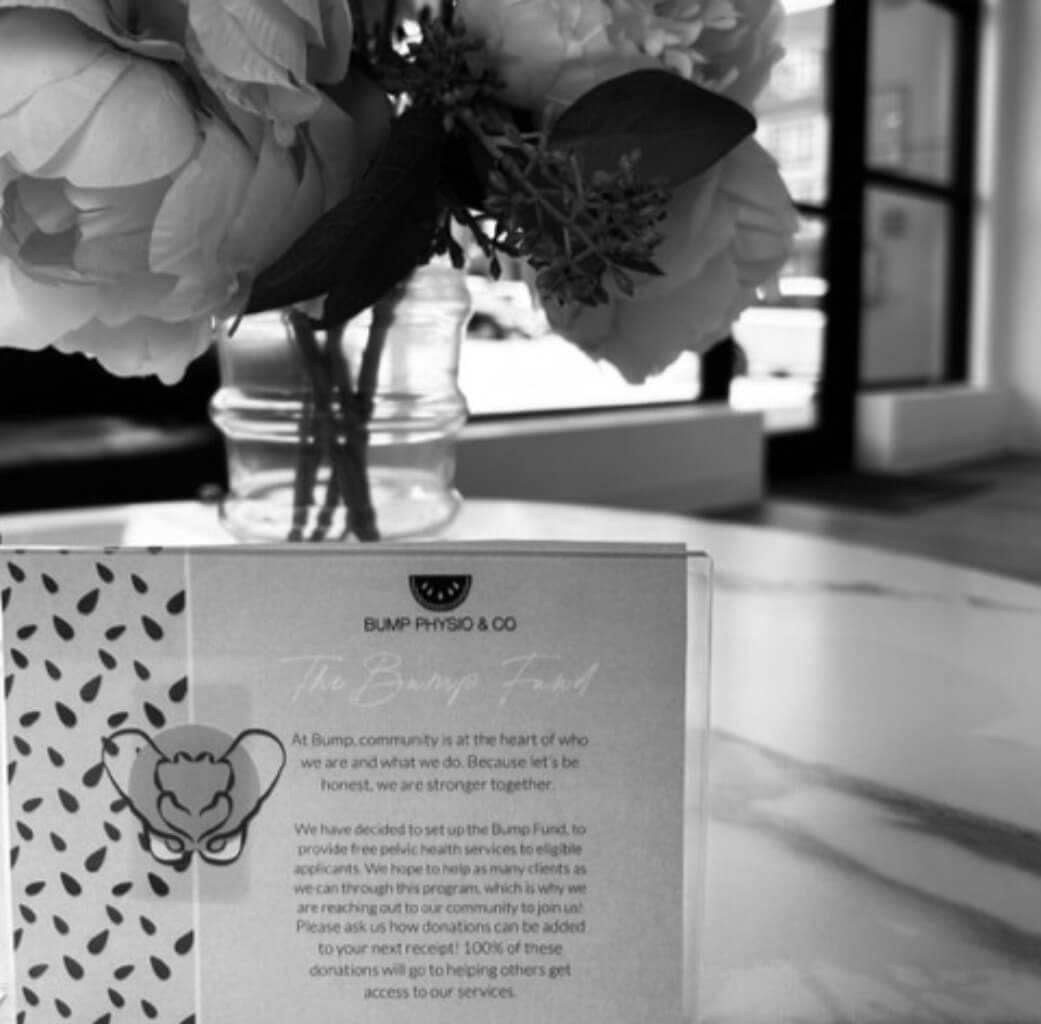 Donate today
For current / past clients:
At Bump, community is at the heart of who we are, and what we do, because let's be honest, we are stronger together. We hope to help as many clients as we can through this program, which is why we are reaching out to our community. Donations to the Bump fund can be made at your next visit. Donations of $2, $5, $10, $20 can be added to your next receipt and 100% of these donations will go to helping others get access to our services. We are also asking for donations of gently used belly bands and wraps that can be sanitized and used by another client in financial need.
Contact us
Program Details
Who?
Low income individuals who require access to pelvic health care where there is a financial barrier.
What?
Prenatal/Postpartum, Pelvic Health physiotherapy services and required Pelvic Health Products (as needed).
How?
With local support from the Midwives, Share, and other non-profits, with an application based program.
Bump Fund
Eligibility Criteria:
The individual does not have access to any extended health coverage, and has demonstrated financial need (on MSP) or referred from a local Non-Profit Society, Midwife, OBGYN, GP, etc.
Who is appropriate to refer?
Clients who are experiencing any of the following:
Sudden, severe and unexpected onset of pelvic floor dysfunction as a result of trauma, pregnancy, birth or postpartum complications
Pre- and postnatal concerns that impact day to day functioning (debilitating pelvic girdle pain, as 3rd and 4th degree perineal tears, etc)
Symptomatic prolapses
Painful intercourse and pelvic pain conditions such as vaginismus and vulvodynia that significantly impact quality of life, ability to conceive etc..
Severe Incontinence impacting day to day functioning
Only for prenatal education
NOT applicable to general PT services
No longstanding pelvic complaints or previously diagnosed chronic pelvic pain conditions
Individuals who have received pelvic health treatment from another provider (either public or private) in the past 2 years
Individuals with extended health benefits

1 Initial Assessment
2-4 follow ups (may be able to get more based on individual circumstances and funding remains available)
After 4 follow up visits have been attended through the program, clients can continue to seek care through MSP and will need to pay the balance of their sessions.

Treatment can also include required pelvic health products for a successful recovery. Some products may be donated or gently used and have been sanitized. Products that are used internally will be provided new.

Client/ Referral source fills out application form
Application form is reviewed to determine eligibility
Client is approved / declined for access to internal funding
Client completed clinic intake forms.
After the client attends their initial session, the supervising therapist will email their treatment plan to Meg to advise how many sessions might be required.
Client receives 2-4 follow up visits. If they need ongoing care, they will need to cover the costs of future sessions.

If a client is accessing Bump funding, they must abide by our current clinic cancellation policy. If a client misses more than 1 appointment, they will lose access to the funding. Prior to the start of their treatment, participants will sign a waiver notifying them of the policy and the potential loss of access to their funding.
Bump Love
Testimonial
I cannot recommend this place enough! The service is beyond exceptional, the clinical team lead Kimberley Huff is one of the most understanding, kind people I've ever met. She really made me feel relaxed and in good hands.

I had a terrible nerve issue due to complications from pregnancy, I could barely walk. I was near tears, felt like I couldn't be the mom to my newborn I wanted to be. Different doctors told me it would be a long process to fix. I had no extra money, almost no options and felt stuck in a body and situation I didn't want to be in.

Thankfully someone recommended to get in touch with Bump Physio because they work with women to help in exactly those types of situations through their bump fund(seriously, what a miracle it was to find hope when I couldn't see much with this situation). I couldn't believe I had a path to my normal self. As soon as I went in, they gave me a treatment plan with at home exercises. Sure enough, within weeks I was making significant progress(and truthfully I was even slacking a bit with the homework portion) and just one dry needling session and I swear I was a whole new woman again!!! The very next day, the nerve pain was gone. They know exactly what they are doing. Don't look elsewhere. GO HERE!!!

SL